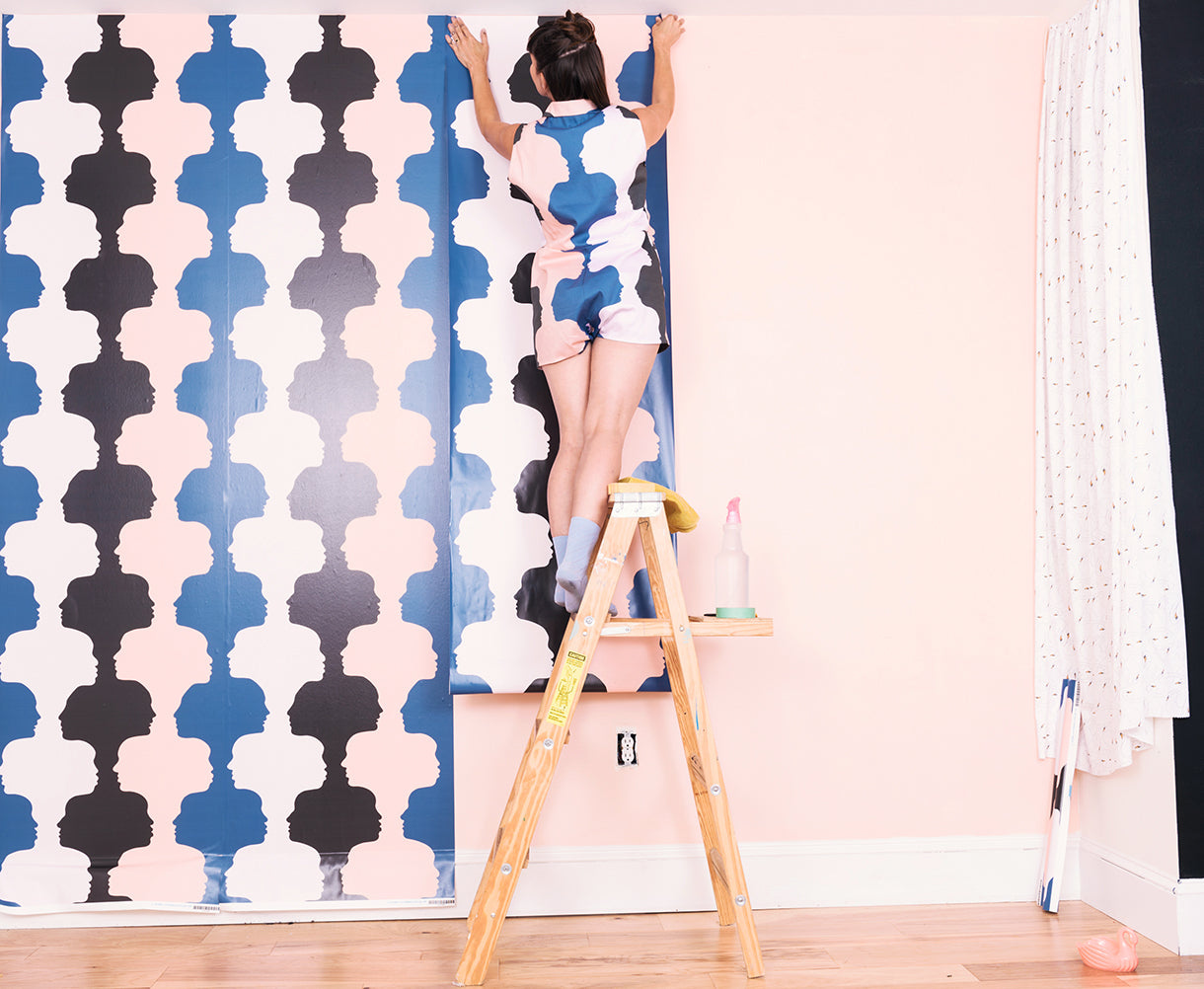 Frequently Asked Questions
I'm totally new to wallpaper. What do I do first?
I have created an illustrated set of directions that you can see here

I also have a video tutorial on how to measure your space and install wallpaper available via YouTube below:
Collapsible content
How is your wallpaper installed?

I've created an illustrated set of directions that you can see 
Where can I get a sample?

There is a sample size option in every wallpaper listing.
Can your wallpaper be installed on shelves?

Yes! You just want to make sure the shelves have a porous quality. Our wallpaper is not peel and stick like a sticker. Instead it has a light weight adhesive on the back that is activated when wetted with H2O. We think it's way easier to use because you have time to adjust and re-adjust before it starts to dry : )
Can your wallpaper be installed on wood panelling? On brick? On a fence? On mirrors? On my random floating wall made of super weird material?

None of these surfaces sound ideal but hey, who am I to stop you from giving it try? I recommend ordering a sample to test it out. You can find 8"X10" samples in every wallpaper listing.
Can your wallpaper be removed and applied again?

No. It's just like regular wallpaper. Once it's taken down it can be recycled but not reused.
Help! I have a weird wall! How much should I order?

Every panel is just over two feet wide (exactly 24 and 3/4" inches). The is so you can overlap the panels and match up the pattern perfectly. The best way to go about calculating how much wallpaper you need is to measure the height and width of walls (or the surface areas you want to cover). You can determine the length of your roll, by the height of your wall. The width of a roll is always two feet wide. For example, a wall that is eight feet high by six feet wide requires three rolls that are nine feet long (because you'll need to round up to the roll length available).
I'm a renter; is your wallpaper safe enough for me to remove when I move out of my apt? 

Yes!! The wallpaper has a lightweight non-toxic adhesive on the back. Once you are ready to move out you can peel the entire panel off the wall and use a wet rag to wipe down any residue.
What if the corners aren't sticking?

The glue may have drained off or didn't get activated properly. You have two options:

1. If you have any wallpaper scraps left over and it's not already wet then get it wet and use some of the glue to dab onto the back of those corners and adhere them back down. I usually keep any of the excess wallpaper pieces for this reason - so that I can steal glue from the pieces if I need them.

2. If you've already cleaned up and you don't have any pieces left you can use Elmer's glue. It's water based and won't mess up your walls. You can add a little water to dilute it and voila.
Can I hang this in my bathroom?

Yes yes absolutely!! Just make sure that after you've hung the wallpaper that you allow it to completely dry before turning on the shower (or the sauna?) or whatever you've got goin' on in there that could steam up the place. It takes a solid 10-14 hours for the paper to completely dry.
Can I get _____ pattern in a custom color?

For custom color inquiries please email at info@katezarembacompany.com ~ There is a $50-$150 USD design fee depending on the complexity of the changes.
How long is your shipping process? Can I expedite shipping?

Every wallpaper order is custom printed. We try to print and ship within 7-10 days of your order. Please contact us at info@katezarembacompany.com - currently we are unable to expedite orders.
Do you ship internationally?

Currently my wallpaper is available in the United States, Canada, UK, Australia, France.
Can I custom order a specific length/width?

We offer a sample size, a 3 ft roll (aka POSTER size), a 9 ft roll, and a 12ft roll. All rolls are 24 3/4" inches wide and cannot be custom printed any wider. We do print commercial grade vinyl type II wallpaper that comes in 27 ft rolls. Get in touch with us if your interested at info@katezarembacompany.com
Do you do wholesale?

We don't offer wholesale at the moment. Interior Design & Architecture firms may contact info@katezarembacompany.com for trade inquiries.
What is your return policy?

All wallpaper is made to order, printed just for you! Returns may be exchanged for other items when stock is held.